About SnirtStopper.com
SnirtStopper™ is a wholly owned and operated subsidiary of Backer Wencel, Incorporated, a family-owned and operated retail and brand development company located in Browns Valley, Minnesota. Our revolutionary garage door seals were developed by High Plains Industries, also based in Minnesota, and each and every seal is manufactured right here in the USA by hometown folks!
SnirtStopper seals are available for direct order through this website and various online marketplaces, including Amazon.com. All our seals are also locally available through our extensive and ever-growing network of dealers and installers. Find a SnirtStopper™ Dealer or Installer near you!
Meet some of the SnirtStopper™ Team!
The SnirtStopper™ Story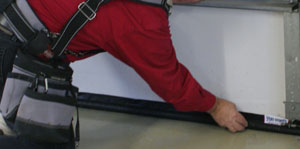 SnirtStopper Premium Garage Door Seals were invented out of necessity when my concrete garage floor became uneven allowing snow and dirt to blow into the garage and heat to escape. I called a garage door company and they told me there was nothing they could do and to call a cement contractor. The cement contractor quoted me $2200.00 and told me the floor would probably lift again within three years. Now what? How do I fix a gap under my garage door without spending a crazy amount of money? Well, after much trial and error, the Snirt Stopper was born! The news article below was published a few years after I first created SnirtStopper. Check it out to learn more about how and why I did it!
~ Montie Beyer, inventor of SnirtStopper
---
Snirt Stopper | Device designed to keep mice and weather out of the shop
By Ron Lyseng, FARGO, N.D.
Oct. 19th, 2012
In years when the bins are full, farmers sometimes temporarily store grain in quonsets and machine sheds.
But unless the bottom of the door has a perfect fit with the concrete, it leaves a crack for rodents to get in.
On the Prairies, a door that fits perfectly one month might have a two-inch gap next month because of shifting caused by weather and other factors. There are many types of rubber gaskets that fasten to the bottom of doors, but they don't compensate enough to make up for the shifting floor.
Fargo inventor Montie Beyer thinks he has found a better way to keep rodents, snow, dirt, cold air and other unwanted elements from sneaking through the cracks.

The Snirt Stopper seals domestic garage door bottom gaps up to two inches.
The mid-size Snirt Stopper seals gaps up to four inches and the six-inch Snirt Stopper seals large industrial doors up to six inches. It is designed for overhead and sliding doors, and has been installed on semi trailers with roll-up doors.
Snirt Stopper consists of a flexible foam cylinder wrapped in an 18-ounce, double-weighted, rubber-based tarp material. The device is held together by polyurethane thread, which Beyer likens to wire, to prevent rodents from chewing it.
To install, Snirt Stopper's tarp has two tabs, one of which is screwed to the inside of the door with self-tapping screws. This leaves the foam cylinder to hang below the gap, but not slide under the door.
The other tab is not attached, so it floats in under the bottom edge when the door is closed. This locks the cylinder into place because it's locked in at spots where the door touches the concrete.
"We do not close the door on the foam," said Beyer, adding that the foam cylinder always stays inside the door. When the door is closed, the Snirt Stopper is inside the building, resting on the concrete floor.
"The material is the same as we see on trucks. It lasts up to 20 years out in the elements, so it should last a lot longer inside the shop."

"We've had our first Snirt Stoppers out for three years, and so far there have been no reports of mice chewing the tarp."
Beyer said he built the first prototype for his garage door because he was fed up with adjusting it. Every device he found on the market was installed so the door closed on it.
"There was a lot of trial and error and a lot of stuff went in the garbage before I came up with something that works."
"One of the main benefits of a hanging stopper is that it's flexible enough that it doesn't freeze to the floor and rip when you open the door."
The Snirt Stopper for domestic garage doors has a diameter of 1.25 inches and sells for $6.50 per linear foot. The four-inch diameter device has a solid inner foam core wrapped in a softer foam, and sells for $8 per linear foot.
The six-inch diameter device also has two foam layers and sells for $10 per linear foot.